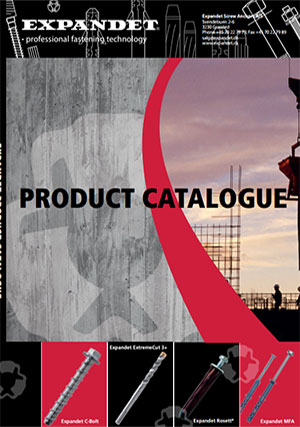 Expandet Product catalog 2016. Here you will find our product range in pdf-format.
The Expandet "Den lille blå" – guide to fastening, assembly, suspensio and glueing (in danish)
Read online or download.
Expandet Calculation Services
Expandet Calculation Services is a user-friendly and manageable modular tool that allows for the design of anchorages and post installed rebar in concrete according to the latest European guidelines and standards.
Modules:
ECS – Concrete Anchoring
ECS – Postinstalled Rebar (EC2)
The architecture of the program modules ensures quick overview and the ability to print a specific calculation in PDF format containing all relevant calculation technical information. The calculation programs is developed in collaboration with leading experts in fastening.
Expandet calculation program is a free program to be downloaded and installed directly on your computer, then it is ready for use.
Expandet Volume Calculator for Chemical Mortar
With the volume calculator you can calculate the necessary amount of cartridges for your planned project. 
Please download here the volume calculator.